Whether you believe in ghosts or not, there are many a spooky story that surround the Portland, Oregon area. With the most ghoulish month of the year approaching, it seemed only fitting to try out a Portland haunted pub tour this past weekend when I visited the eclectic city.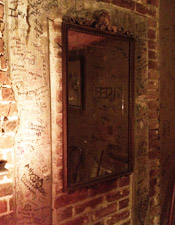 The walking tour was a mix of historical accounts, creepy stories of hearsay, and of course, local beer. It was interesting and fun, but low on the actual scary factor. Don't expect to feel any chills down your spine unless you are one of the few lucky ones to snag a picture of an unexpected specter in a particularly haunted spot with your camera phone. Still, I would recommend it if you like to have a few drinks and hear the seedy side of things.
The next time I go I'd like to try the tour specific to the Shanghai tunnels, something we just got a taste of on the pub tour. These tunnels make up a creepy underground labyrinth lying just below the city where all types of debauchery took place in the mid-1800s to early 1900s, including drug trafficking, illegal card games, and oh yeah, kidnapping. (Ever heard of getting Shanghaied?) While this tour lacks beer, I hear it's much higher on the creepy factor. I mean, if you're claustrophobic it'll be enough to send your heart racing just being in the confined tight brick and rock lined spaces.
Tour information:
BeerQuest Haunted Pub Tour $45
Shanghai Tunnel Tour $13